Book cover design
All my book covers have been designed for self-published authors ready to publish a middle-grade book.
I always work on the illustration, the font design, and the cover layout. I am sometimes asked to draw interior illustrations and original map designs.
Scott Charles
Florian is brilliant! I've done several projects with him by now, and his work continues to amaze me. He's super prompt and he thinks of everything. His sketches are already great, but the end product always, always exceeds expectations.
Only once did we have a small miscommunication on a cover design (younger target audience) that pushed him out of his comfort zone. Florian was super responsive. After sorting it out, he went on to produce a truly fabulous cover (for Mylo and Max Break the World) which, I'm sure, helped my strange little book find its audience and earn a Publisher's Weekly review.
Highly recommended. You should be so lucky!
Publications
Video Game Elementary Series
Middle-grade adventure series
Video Game Elementary: Fall Guy , Video Game Elementary: Impostor Mode, Video Game Elementary: Trapped in Class
Creeptown Series
Middle-grade horror stories
Creeptown: The Breaking Game, Creeptown: The Bone Taker, Creeptown: The Final Ingredient
Mylo & Max series
Middle-grade adventure series
Graham Whitlock
I'm immeasurably glad I choose Florian to work on the book cover of Star of Nimrod, and not just because of his stunning design.  His imaginative response to my brief was perfect, his communications were crystal clear, he was responsive to feedback and it was a real pleasure collaborating with him.  Highly recommended
Publications
The Crystal Palace Chronicle series
Middle-grade time-travel
The Crystal Palace Chronicle: Palace of Shadows
The Crystal Palace Chronicle: Star of Nimrod
D.S Quinton
This was my first time working with Florian, but won't be my last. His cover design and map illustration brought my words and ideas to life beyond my expectations.
He was a pleasure to work with.
Publications
Milo Savage and The Gargoyle Hunters series
Middle-grade fantasy
Milo Savage and The Gargoyle Hunters: The Secret of The Moonstone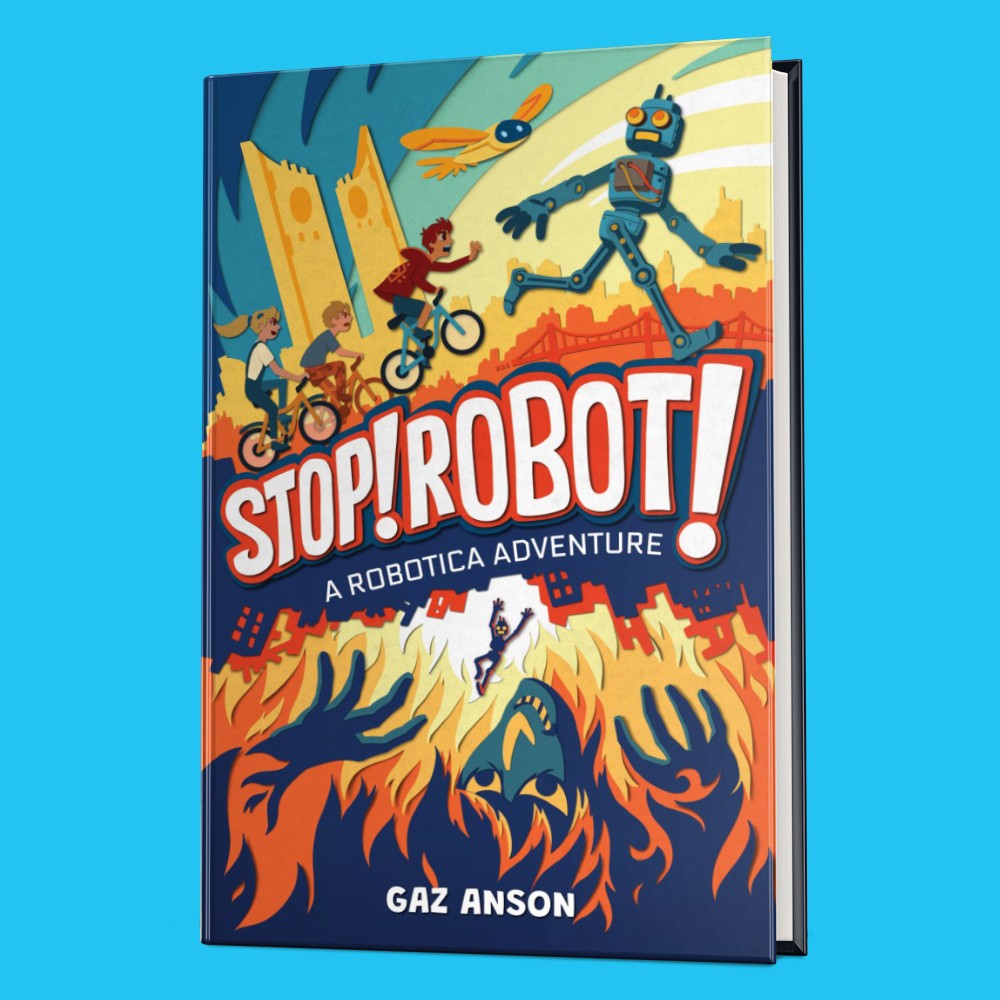 Gaz Anson
Florian is a master at his craft — he is original, creative and a great communicator. I have worked with lots of very good professionals over time, both on books and also on other products, but Florian stands out head and shoulders above all of them. I am so grateful he said yes to my job. If my book sells well, it will have so much to do with his fantastic, brilliant, inspired artwork. Merci mille fois Florian! I'll be back for more of your gold. : )
Publications
A Robotica Adventure series
Middle-grade science-fiction
A Robotica Adventure: Stop! Robot!
Matthew Frain
Exceeded all my expectations. I'm a first timer so working with Florian was perfect. He gave me great advice and taught me everything I needed to know!
So happy with how it turned out! Best thing you can do for your book is work with Florian!
Publications
Andy & Rufus series
Middle-grade comedy
Andy & Rufus: The Ruby Robbery
Iris Langdell
I loved working with Florian and I have already submitted another request to him.
He brought my characters to life and on seeing them, I thought, "Yes! That's them, exactly!"
Of course, Florian's artwork is stunning, but my amazement is how generous he is with his time, this far exceeds the cost of his services.
He is incredibly patient and he took the time to really get to know what my book was all about , what my intention is for my book, my characters and the ideas behind the story, then he encapsulated this into a beautiful book cover.
Publications
Archie the Waterhorse series
Middle-grade fantasy
Kristin Glasbergen
Florian was a delight to work with. His communications were prompt and professional. His designs exceeded my expectations and I'm thrilled with the final project.
Our timeline went longer than planned because of a health issue and Florian generously extended the project to accommodate me.
I recommend Florian and would happily work with him again.
Publications
Dragon Canyon series
Middle-grade fantasy
Dragon Canyon: level  1 Fire of four
Dragon Canyon: level 2 The Great Dragon Race
Dragon Canyon: Blue Sea
Bretigne Shaffer
Florian was an absolute joy to work with! His work is beautiful and impeccable, and he also works very quickly. He is always very responsive to requests for changes, and understands right away what I am looking for. I highly recommend him to anyone looking for a talented and professional artist.
Publications
Annabel Pickering and the Sky Pirates series
Middle-grade fantasy
Annabel Pickering and the Sky Pirates series: The fantastical contraption
Mikkel Host
Florian's work exceeded my expectations. He provided his own personal touch and experience as an artist while making sure to respect my own creative decisions, and I think the result is the best possible version of what we set out to accomplish. My book now has a cover that I'm confident is memorable, eye-catching and overall just pleasant to look at.
I'd be delighted to work with him on future projects, and I highly recommend him to anyone who wants a cover that stands out among the rest.
Publications
Middle-grade fantasy
L.A Estabrook
Florian is a creative, professional artist. He created the cover, book jacket, and social media art for my new YP novel. He worked quickly and produced art beyond my expectations. Collaborating him him was so easy and His english is amazing. I know my book will sell more because of his cover art! I will work with him again if I can.
Publications
Middle-grade science fiction